About Us
Our areas of expertise and experience encompass all industries and all disciplines from entry level to executive management. Our biggest successes have come where we have built strong relationships with employers serving their recruitment needs in a variety of disciplines by listening, learning, and adapting to their changing needs over the long term. We enjoy a smaller group dynamic and the teamwork, efficiency and energy that it brings. This environment allows us to remain flexible as well as adaptable to our clients needs, and to continue to succeed at surpassing their expectations.
our passion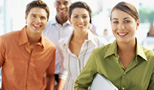 A successful placement requires the right balance between the attributes, skills and experience of the candidate and the needs, both present and future of the company. Very often an organization has a clearly defined succession plan, that to be successful, requires the individual to rise to the occasion and be capable and prepared to take that next step. How quickly these upward movements occur differs greatly from company to company. Having a clear understanding of the career path for the position an organization is looking to fill is crucial to finding the right F.I.T.. We understand the importance this plays in identifying the right individual. When this degree of forethought is incorporated into every hiring decision the continued success of the organization from a human capital perspective is all but assured. When you engage Vital Recruitment Specialists in your search for talent we understand these concepts well, and put these principles into practice. We have had the pleasure of placing candidates from the most seasoned c-level executives to newly graduated future business leaders. However, the overwhelming feeling of satisfaction remains the same either way, when we successfully pair an enthusiastic new addition with our client company's welcoming team.
our thoughts
"Our business is a people business; people matter, relationships matter, our
reputation matters, results matter."
" We know we have done our job when a client company says to us - "We could confidently hire any one of your finalists - picking only one will be the most difficult decision."
"We have the knowledge, experience and determination necessary to successfully identify, attract and secure the specialized talent you require."
"We look forward to the opportunity to produce the results that you require."