UNDERSTANDING
As a hiring manager or human resource professional you appreciate that the value of intellectual capital has an immeasurable impact on the success of an organization. No level of technology, equipment nor software can replace the blood, sweat and tears that an individual can pour into helping an organization flourish. In fact the right people could make any organization successful regardless of the hurdles it faced. Despite all of the sophisticated equipment, software, online resources, advanced communication methods and all of the other changes that have occurred in the way we do business over the last 15 years we have not lost sight of the fact that the business of recruitment is a people business. People matter, relationships matter, results matter, our reputation matters. This could be said about any business, organization, or service - no matter how dependant on technology, it is the people that make it all happen..
proud of our commitment, dedication
We are a Contingency Based Executive Search Firm. Our fee is based on a percentage of the first year's salary and is only payable if you hire one of the candidates that we represent. We have the knowledge, experience and determination neccesary to successfully identify, attract and secure the specialized talent you require. We are confident that given the opportunity to demonstrate our particular brand of recruitment strategy, the results will lead to a long term mutually beneficial business relationship.
We understand that it is often hard to find qualified, experienced professionals that meet your specific requirements. It can be even harder to find a search firm that understands, listens and is able to bring forward candidates that meet those specific needs.
The next time you are looking to add a member to your team we hope that you will remember this information, and give us a try. We are excited at the prospect of assisting you with your next search campaign and providing you with the results you require.
We are an Executive Search Firm with repeated success sourcing and placing individuals in all disciplines and all industries.
Skills, Qualifications, Experience, Compensation, Location - all are important, required, and necessary criteria when making a hiring decision to ensure your organizations continued success. But what about the fit - what is the fit or F.I.T.. It is a simple word but carries a lot of the responsibility for the success or failure of a new hire. Let's look at it a little more closely. F-Fundamentals (must be a solid and proven performer in their given discipline and meet all of the technical requirements) I- Intellect (do they have what it takes to take things to the next level - is your succession plan contingent upon this individual progressing through the various levels of responsibility - if so they must be both capable and possess the desire) T-Temperament (their attitude, aptitude, style, personality, and strengths must complement the current mix of staff and management)------------------------------------------------------------------------------------------------------------------------------------------Contingency Search - You only pay us if you hire one of the candidates that we have represented. Until and unless you make the decision to hire our candidate you owe us nothing for our services. Given the nature of such an offering, and the fact that much of our efforts and resources are put forward throughout this process we do ask for payment of our fee for a successful placement upon start date. If the candidate that you hire leaves your employ either on their own accord or you determine that they do not meet your needs, a credit will be issued to be used towards the replacement of the candidate or toward any other position you chose. Our commitment to you does not end there however. We commit to following up with both you and the candidate that you have hired throughout the guarantee period and beyond, in order to ensure a successful integration, and be there as a sounding board for any minor initial questions or concerns that if left unchecked could potentially grow into future issues. We further commit to being prepared to allocate more than sufficient resources in order to ensure that your guarantee is honoured in the rare event that the candidate you chose to hire does not meet your performance expectations or chooses to leave on their own. In fact this preparation begins during the original search process itself as we will not stop once we have identified an ideal candidate or candidates for the role at hand, even throughout the final stages of the hiring process and up until the start date of the candidate we will continue to identify, assess, and monitor potential candidates. Taking advantage of the momentum developed throughout the search process in this way ensures that are in a position of strength should it be necessary to refill the role.
what to expect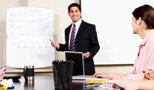 That we will gather all of the required information necessary through consultations with your Hiring Manger or Human Resource Representative in order to understand the position parameters such as responsibilities, accountability, expectations, challenges and opportunities. This will enable us to fully understand the scope of the role, the succession plan for this individual, the F.I.T. most complementary to the existing staff and/or leadership team, the common characteristics displayed by your top performers, your organizational structure, culture, vision, ideals, preferences and in simple language the wants, needs, and musts of the job.
That we will create a profile of the ideal candidate, specifying academic requirements, optimal types and levels of experience and character attributes.
We will conduct an all encompassing, thorough and professional search within the timelines and deadlines that you require.
That you will receive continous updates on the progress of the search
That we will not hestitate to ask follow up clarification questions that will help to more clearly define the search paramaters based on what we are finding in our preliminary results.
That we will ask for and value your feedback on all candidates presented in order to gain an even greater understanding of your needs.
That we will maintain constant focus and dedicated resources to your search assignment until such time as we have completed it successfully.
That we will coordinate the testing, background checks, criminal checks, credit checks, educational checks, and interview techniques that you request, to help make the right hiring decision.
We will conduct customized employment references tailored to reflect the specific requirements of the position you are looking to fill along with our standard reference questions.
That we wll assist in coordinating interviews, and initiate pre and post interview discussions with both the candidate and the designated point of contact within your organization.
That we will council the finalists in order that they are prepared to receive an offer and be in a position to make a decision in a timely fashion and avoid the pit falls of a counter offer from their current employer.
That we will assist in coordinating the start date and any associated paperwork necessary to facilate their employment with your organization.
We will use the billing and reporting formats you prefer, to help you integrate staffing spend into your business processes.
That we will follow up with both you and the candidate that you have hired throughout the guarantee period and beyond, in order to ensure a successful integration, and be there as a sounding board for any minor initial questions or concerns that if left unchecked could potentially grow into future issues.
That we will be there to honour our guarantee in the rare event that the candidate you chose to hire does not meet your performance expectations or chooses to leave on their own.
Begining from the moment we are engaged in a search assignment on your behalf we will not target, recruit, or represent any employee currently employed, or subsequently hired by your organization. We work with such a diverse cross section of market catagories and across all skills sets and disciplines that we do not need to, wish to, or condone any agency that engages in such practices.
That true to our name, we will provide straight forward, quality, professional, reliable, timely, specialized recruitment, securing top talent Vital to the continued success of your organization.
respectful partners
As a recruitment organization conducting a search on your behalf we see ourselves as a business partner, in affect acting as a representative of your organization. We do not take this responsibility lightly and as such we ensure that our methods, techniques, words and actions represent your organization in a respectful and professional manner. Further to this, we will not try and leverage our connection to your organization to enhance our firms image. In fact, many of our clients appreciate our ability to conduct highly successful, exclusive, confidential search campaigns resulting in a successful hire without alerting internal employees, unqualified candidates, or the clients competitors. We are able to conduct the most thorough, all encompassing and specifically targeted search campaigns with only those that are choosen to be interviewed by our client being aware of who our client is. If for some reason you prefer to conduct the preliminary interview without devulging your organizations name - that can be, and has been done successfully as well.